After the catastrophic mess left by the digital producers of the art featured in Brusatte's
Dinosaurs,
one really ought to appreciate the paleoartists who do take the actual time to do their own research and produce visually-appealing, scientifically accurate (for the time being) animals. In this post, I'll talk about who my top favorite paleoartists are, and hopefully raise awareness on the new Pixel Shack-esque trend taking over many of today's dinosaur books.
1. Todd Marshall
Utahraptor
Image Credit: Todd Marshall. Used for non-commercial purposes.
There seems to be a "love-it-or-hate-it" trend with Todd Marshall's artwork. His work is very frequent with Paleontologist Paul Sereno's, but a fair share of critics bring up his overuse of adding spikes. I do see a few works of his where such criticism is fairly applied (I.E. his Spinosaurus reconstruction), but more often than not I feel they are greatly over exaggerated. If All Yesterdays has taught us anything, it is that "a significant amount of morphological and behavioral characteristics are forever lost in time." Marshall's art is both stylish and realistic to me, making him one of my favorite artists, and to see more art by him in dinosaur books would be a wonder.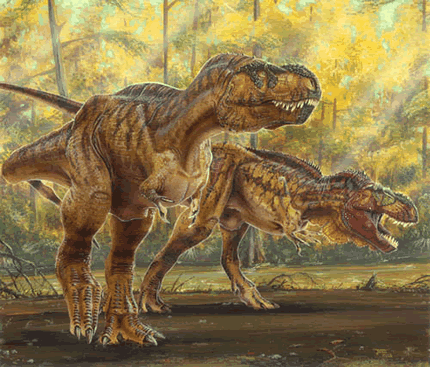 Tyrannosaurus
Image Credit: Todd Marshall. Used for non-commercial purposes.
2. Michael Skrepnick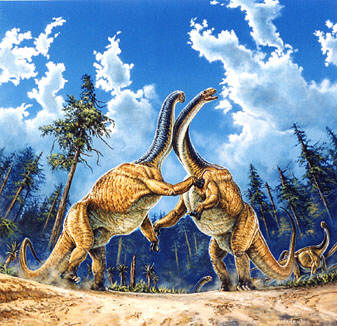 Image Credit: Michael Skrepnick. Used for non-commercial purposes.
Artist commentary:
Two dominant males
assume an upright,
combative posture
and engage in an
aggressive shoving
match/intraspecific
display. Komodo
dragons and other
modern monitors
frequently engage in
similar behaviours
when resolving
mating or territorial
disputes.
I'd say the best way to describe Pastori's work would be, "Think Luis Rey, but more realistic. And less digital." At his best, Fabio Pastori makes images that the most renowned museums would be proud of.
Vitaliy is a DeviantArt artist who, quite frankly, is one of the best in my opinion. Every piece by him is worthy of being in a book by even the most professional paleontologist. Just compare his tyrannosaurid to Pixel Shack's Tyrannosaurus, which does get featured in books by professional paleontologists:
There are plenty of other artists out there that I consider to be top-notch (I.E. Luis Rey, Gregory S. Paul). I also wasn't able to cover sculpters, such as David Krentz (future post, maybe??). For now, I consider these 6 paleoartists to be the very best in my personal opinion. Hopefully, what this post has done is convince you to...